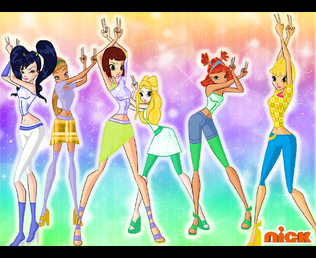 The Wildix Is a club of Seven Fairies formed over three years, that use their powers to protect the innocent and defenceless from evil. The Wildix formed approximately 4 years after the Winx Club and consist of all the main Characters of the Wildix Club Group. They currently reside at Alfea Collage for Fairies in their third and final year.
Creation:
Edit
Officially Raina was the one who created the Wildix Club. She came up with the idea after meeting Lena at Alfea Collage and learning about the story of her missing parents. She then felt that Lena should be the leader. If was only a short time after this that Shyla, Elena and Delia came to the join the Wildix and they became it's founding members. Gemma and Athalia would join in Season 2 and 3 respectively.
Founders:
Edit
Lena
Raina
Shyla
Elena
Delia
Temporary Member:
Edit
Ad blocker interference detected!
Wikia is a free-to-use site that makes money from advertising. We have a modified experience for viewers using ad blockers

Wikia is not accessible if you've made further modifications. Remove the custom ad blocker rule(s) and the page will load as expected.